The Potential of Action Research for Improving Science Teaching – An Experience from Georgia

Abstract views: 92 /

PDF downloads: 72
Keywords:
science teaching, innovation, Action research
Abstract
Action Research is an intense strategy of connecting practice and research. New teaching approaches and materials in Physics were developed during a master course at Ilia State University in Georgia. Pre-service teachers conducted Action Research using observations, interviews, and questionnaires to test and evaluate these innovative approaches in the classroom. The current paper describes how Georgian pre-service teachers have been working to improve physics teaching in the 7th grade. After implementing the inquiry-oriented lessons modules, the pre-service teachers noted a positive tendency in terms of students' involvement and motivation toward physics.
References
Mamlok-Naaman, R., & Eilks, I. (2012). Action research to promote chemistry teachers' professional development–Cases and experiences from Israel and Germany. International Journal of Mathematics and Science Education, 10(3), 581-610.
Towns, M. H., Kreke, K., & Fields, A. (2000). An action research project: Student perspectives on small-group learning in chemistry. Journal of Chemical Education, 77(1), 111.
Panasan, M., & Nuangchalerm, P. (2010). Learning outcomes of project-based and inquiry-based learning activities. Journal of Social Sciences, 6(2), 252-255.
Pintrich, P. R., & De Groot, E. V. (1990). Motivational and self-regulated learning components of classroom academic performance. Journal of Educational Psychology, 82(1), 33.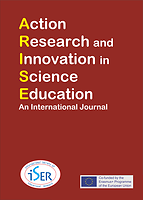 Downloads
How to Cite
Kapanadze, M. (2019). The Potential of Action Research for Improving Science Teaching – An Experience from Georgia. Action Research and Innovation in Science Education, 2(2), 1–2. https://doi.org/10.51724/arise.18
License
Copyright © Authors